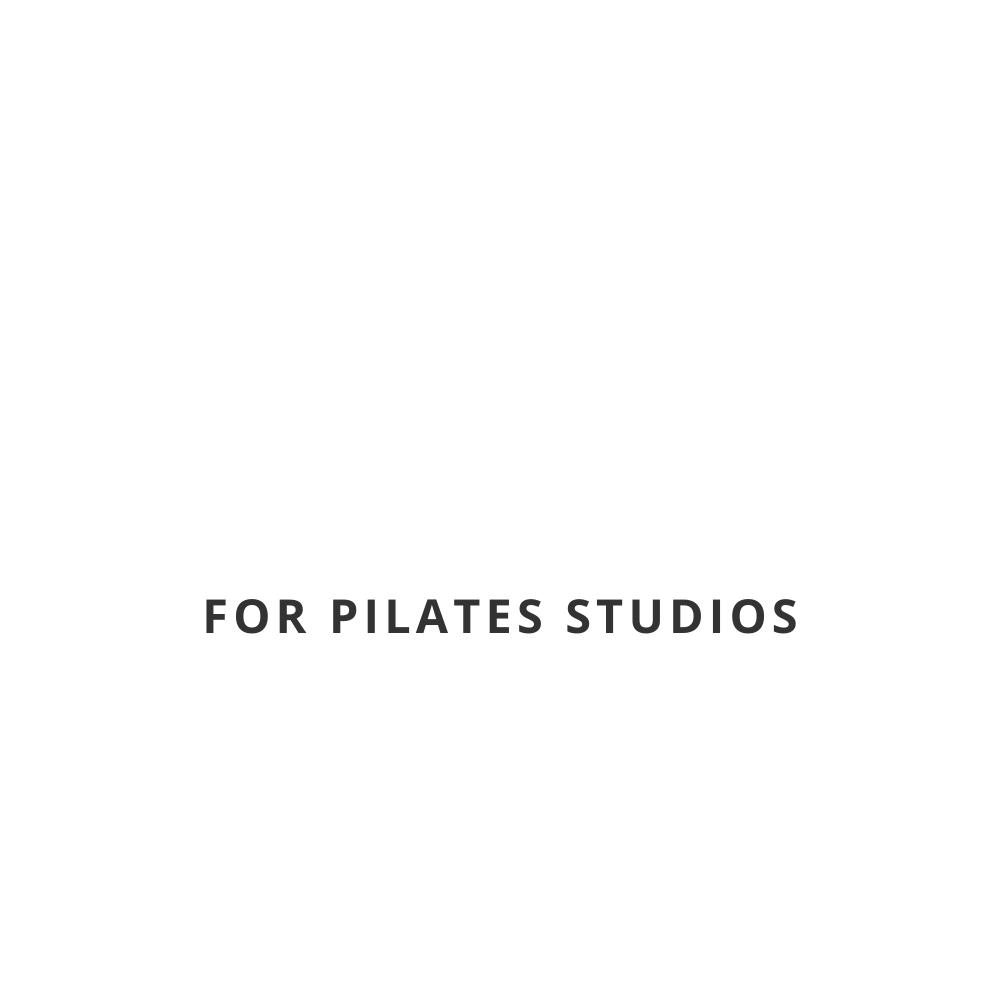 Getting ready to reopen your studio and unsure of what you should be doing to keep your clients safe and stop the spread of germs? This course will answer all of your questions!
It's been several months since COVID-19 disrupted our ability to teach in person and now many studios are preparing to re-open. However, when it comes to cleaning, you probably have some questions, including...
Should I use clorox wipes?
What kind of cleaner should I use?
Is soap and water good enough?
Is alcohol going to damage my equipment?
How do I clean my small props?
I've been fielding these questions for weeks, which is why I created The COVID-19 Cleaning Guide for Pilates Studios: A comprehensive and simple online course to answer ALL of your major cleaning questions and help you create a simple cleaning protocol to keep you clients feeling safe and minimize the spread of germs, while protecting your equipment.
This course explains exactly what works and what doesn't using information straight from the CDC and other public health experts. It'll save you from purchasing expensive cleaning solutions that don't actually work (UV lights I'm looking at you!), while empowering you to feel confident about teaching in person again.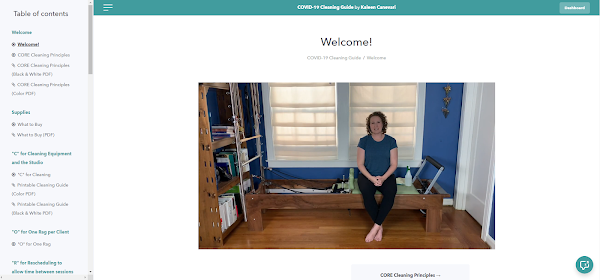 You will get a detailed review of the "Core" Principles of Safety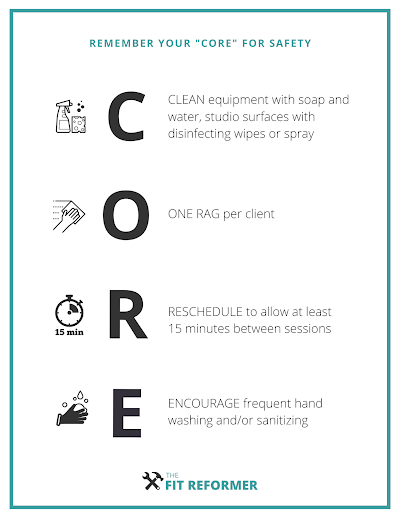 A 1 hour video lecture
Printable handouts/posters for your studio
Email template for educating clients of new cleaning policies
Future updates and news based on emerging guidelines (this is your one-stop shop for staying up to date with latest public health guidelines)
Finally, upon completion of the course, you will also receive a digital and printable badge showing you completed the course to demonstrate to your clients that you are taking their health seriously by staying up to date on the best cleaning practices for minimizing the risk of spreading COVID-19.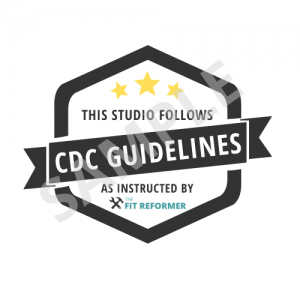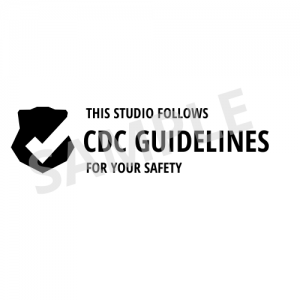 Kaleen has been featured in What studio owners are saying
"This course was very helpful and filled with information on how to keep clients (and instructors) safe. All the information out there is so overwhelming, it would have taken hours to sift through and figure out what to do. Kaleen bundled all of that up into this course. I feel much more knowledgeable when it comes to when and how to start seeing clients again. This course was a real time-saver!"
"Thank you so much for putting this course and materials together. I am a better and smarter studio owner because of this course and I believe my clients will feel better and more empowered by the suggestions you have laid out in this course."
"Thank you so much for the course!  The material was excellent, timely and gave me a best practices model in the midst of so many different viewpoints bouncing around right now.  My business partner and I are using your guidelines to reopen our studio next week."
"Thank you SO much for creating this course, I am a healthcare professional as well and I found it very informative and well done."
"Thanks so much for compiling all of this timely and useful information, then wrapping it up into easy to follow, practical instructions! Taking the course really helps me feel more confident about reopening next week. In return, I can pass that confidence onto my clients so that they can be assured that every precaution has been considered."
"Thank you so much for creating the Covid-19 cleaning course. You answered many of my questions, and it is so hard balancing the cleaning protocols while also protecting our equipment. Thank you for educating us all!"
"Thanks for another great concise and well put together course, Kaleen."
"Thank you for putting together such a thoughtful and resourceful piece with the COVID-19 Cleaning Guide - well done! I appreciated how you laid things out very simply and also included so many references."
"Thanks for such an informative and helpful course…and the CECs too."
Get answers to all of your burning questions
How do I make my clients feel safe coming back to the studio?
How do I keep my clients and instructors safe when they return?
What should I use to clean my equipment?
How do I clean my equipment?
How do I clean my small props?
What are the MOST effective practices to reduce the spread of germs according to the CDC and public health officials?
Will disinfecting hurt my equipment?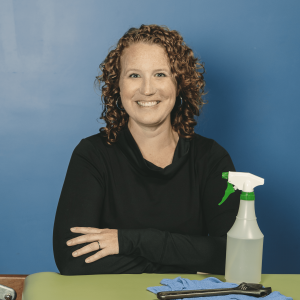 Hi! I'm Kaleen.
I'm a Pilates teacher and engineer who solves Pilates equipment headaches. For the last seven years I've been taking complicated technical information and breaking it down for Pilates professionals.  I made this guide for cleaning during COVID-19 specifically as a response to the many questions I've been asked about balancing cleanliness and with keeping equipment looking and performing like new.
I was also the featured expert on cleaning protocols for Pilates Studios on Balanced Body's website and with Pilates Anytime.
Get your free guide to cleaning pilates equipment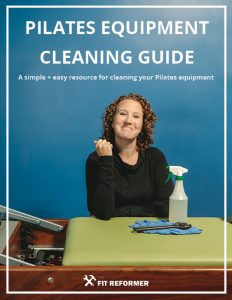 Say goodbye to black marks on rails, smudges on wood frames, and hair in the headrest with these simple steps.