Need Pilates equipment help?
Hi!  I'm Kaleen.
I founded The Fit Reformer to support Pilates studio owners and instructors like you when the inevitable time comes that you have a question about your Pilates equipment.
Here's how I can help you:
Find a trained Pilates equipment technician near you!  Kaleen created the SafeReformer Technician Network to make on-site equipment help more accessible for everyone.
Learn how to take care of your Pilates equipment with one of my quick and easy online courses.  Topics include the basics, buying/selling used Pilates equipment, and cleaning in the age of COVID-19.
Kaleen has an extensive blog library that walks you through some of the most common questions and procedures you might encounter with your Pilates equipment.
Kaleen has been featured in I'm sure you've heard the rumors around town.  "Lisa got that Reformer for a steal! She only paid like $600!" Kinda makes you want to buy used equipment, too, huh? The reality is that these kinds of deals aren't terribly common, and they get bragged about so much because they are so shockingly good.
With the Coronavirus dominating our news feeds, I've received several questions from concerned studio owners about how to balance disinfecting with not ruining expensive Pilates equipment.  So, I decided to write a blog post about it.
"I'm so happy she came to the studio today, all my equipment feels like new!!!" -Beatriz Sanchez (Core Pilates Studio)
"Kaleen Canevari knows her stuff. She has helped me several times with my different reformers and now has excellent videos to follow. She's an engineer who knows how to put instructions in easy to follow language. If you need help with any of your Pilates equipment, she's your go-to technician! I recommend her highly!" -Debbi Hexter Lavinsky (Phoenix Pilates and Rossiter Center)
"Made a new Pilates friend today and got my equipment tuned up as well! Kaleen is professional, thorough and chock full of great information! Thanks for taking such good care of my equipment!" -Jo Ann Graser (Tensile Strength Studio)
"Kaleen provides a solid foundation of Pilates apparatus care. Whether it relates to an upgrade, repair, or a retrofit, Kaleen's videos and blog posts, are practical, useful, and empowering. Her personalized guidance is invaluable – especially when I encounter the "one off" situations. Although we live in different cities, the distance is not a barrier. Her vast Pilates and engineering knowledge, professionalism, and timeliness – combined with today's technology, have enabled me to take full ownership over my Pilates apparatus. I highly recommend Kaleen and the Fit Reformer." -Johanna Chong  
"Kaleen was integral to setting up my studio's new location. Her expertise and knowledge of the equipment provided me comfort in knowing that my equipment retro-fits would be done accurately and correctly. She assembled my equipment and made the whole process smooth and simple. When it's time to open your studio, call Kaleen!" -Nancy Tenoglio (Park West Pilates)
"Kaleen is awesome! I needed help replacing some defective parts on my reformers and eliminating an ever-present noise on one of my reformers. She was able to diagnose the source of the annoying squeak and coordinate with Stott to get the correct parts sent out to me. What a great weight off my shoulders knowing that I have someone in my corner that can get things done quickly and thoroughly and is a pleasure to work with." -Robin Monette (The Pilates Reserve)
Get your free guide to cleaning pilates equipment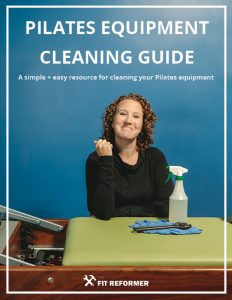 Say goodbye to black marks on rails, smudges on wood frames, and hair in the headrest with these simple steps.